Sponsor & Donate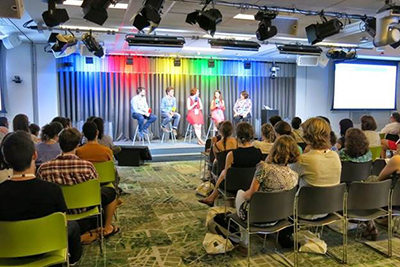 We need your help to bring The Computers: The Remarkable Story of the ENIAC Programmers to classrooms, STEM groups and technology teams around the world. Your support will allow us to provide screenings, translations and develop curriculum and discussion guides. It will ensure that the inspirational ENIAC Programmers' story reaches students and adults worldwide!
SPONSOR NOW!
Showcase your leadership in technology by bringing The Computers at your company, organization or schools. Inspire your employees, students and members to expand their technology skills, or use the screening to help attract and retain top tech talent. In 2015, Google created a series of local outreach events in Paris, Stockholm, Zurich and Tel Aviv. Bloomberg/London hosted an internal event for hundreds of its IT professional. In NYC, GoDaddy sponsored The Computers screenings for students, including those at the Academy for Software Engineering.
To arrange sponsorships and screenings, please contact Kathy Kleiman, ENIAC Programmers Project founder.
DONATE NOW!
It took a village to make The Computers film, now we need your financial support to distribute and promote The Computers worldwide. Individual donations of any size will help us move us forward, and we greatly appreciate any support you can provide.
Donations are accepted by Docs In Progress, a 501(c)(3) non-profit organization helping independent documentary producers in Silver Spring, Maryland, and throughout the Washington DC Area.