Founder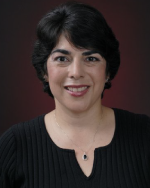 Kathy Kleiman, Founder of the ENIAC Programmers Project,
Historian and Author
Kathy Kleiman discovered the ENIAC Programmers as a Harvard undergraduate and a female programmer in search of role models and inspiration. Her junior paper and senior thesis explored the missing chapter of computers—the ENIAC Programmers and many other women who were pioneers in early programming and software. A decade later, upon learning that most of the ENIAC Programmers were not invited to the ENIAC's 50th Anniversary she set out to record their oral histories, seek recognition for their accomplishments and produce a documentary to tell their dramatic story.
The ENIAC Programmers story inspired Kathy to believe that technology careers were open to all. After college she worked in data centers and managed international data communications networks in New York City. "The ENIAC Programmers story inspired me to stay in computing at a time when every other signal in society was urging me to turn away."
Kathy attended law school at Boston University School of Law and joined the telecommunications firm of Fletcher, Heald & Hildreth in Arlington, Virginia. In 1996, Kathy co-founded her firm's Internet Law & Policy Group and in 1999 became part of the group that founded ICANN (Internet Corporation for Assigned Names and Numbers) to manage the global domain name system. The ENIAC Programmers were her mentors and remain a constant inspiration in her work.  "It is my great hope that the ENIAC Programmers story will throw open the doors of computing to all—for it was women and men who created this wonderful field and changed our world together!"
Awards



Heroines in Technology Lifetime Achievement Award—Women in Technology and the March of Dimes, 2009
On November 13 in Fairfax, Virginia, the March of Dimes and Women in Technology presented the 2009 Heroines in Technology Lifetime Achievement Award to an astonished Kathy Kleiman, ENIAC Programmers Project founder. Citing her years of work seeking recognition for the ENIAC Women and documenting their story, women technology leaders selected Ms. Kleiman from 16 finalists, all women technology leaders dedicated to community service. She is the youngest person to receive this award.