Blog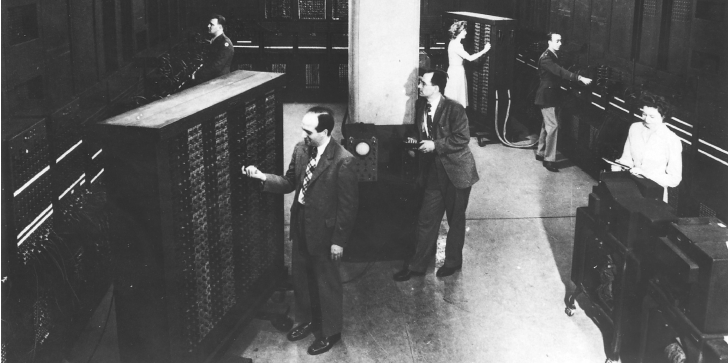 70th ENIAC Anniversary Missing ENIAC Programmers!
Feb 14, 2016
On the 70th anniversary of Demonstration Day, which took place on February 15, 1946, it is disappointing to learn that the ENIAC Programmers story is still not being celebrated at the University of Pennsylvania (where the original event took place). Seventy years ago, the ENIAC Programmers prepared for the great public unveiling of ENIAC (a top-secret WWII project) and programmed the ballistic trajectory onto the ENIAC – a differential calculus equation programmed onto a computer with only ten words of memory (try that today!).
Yet, while their program succeeded so brilliantly and defined clearly the new innovation of computers, the women were never introduced. They were never honored or recognized or names. They helped out as they always did: taking coats and passing out printouts of their trajectory. That they could answer every question anyone asked them about ENIAC seems to have fallen by the wayside – Jean Jennings Bartik, Betty Snyder Holberton, Kathleen McNulty Mauchly Antonelli, Marlyn Wescoff Meltzer, Ruth Lichterman Teitelbaum and Frances Bilas Spence were just women.
Apparently, new scholarship based on only "what is in the written record" again discredits the women and takes away from their innovations. Is is a shame to take this approach because in the 1940s women were not included in the written record. If we have learned anything in 70 years, it is that the perspectives and biases of writers in their time may not give us a full picture of the innovations that took place and the inventors who made them. That the men chose not to write about the women then is a historical fact; that the University of Pennsylvania chooses not to recognize and honor their accomplishments today is a tremendous misfortune.
The schedule of the ENIAC 70th Anniversary is below. May this be the year that the ENIAC Programmers enter history — and may their names and stories continue to inspire women and men across the world!
————————————————————————————–
ENIAC 70th Anniversary Colloquium – Wu and Chen Auditorium, Levine Hall 101
2:30 pm:   "Working on ENIAC:  Rethinking the Myths of Innovation"
Thomas Haigh, Associate Professor of Information Science
University of Wisconsin-Milwaukee
3:30 pm:   "A History of ENIAC in Three Programs"
Mark Priestley, Independent Researcher
4:15 pm:    Book Signing, Levine Lobby
"ENIAC in Action: Making and Remaking of the Modern Computer"
Thomas Haigh, Mark Priestley
MIT Press
4:30 pm:    Reception, Levine Lobby
5:15 pm:    "The Counterparts" – A Capella group will perform songs from the WWII era